Here are our interviews and previews with makers of fringe theatre, comedy, cabaret, dance and more…
---
---
AUDIO INTERVIEW
Paul Levy talks to Maria McAteer about One Last Look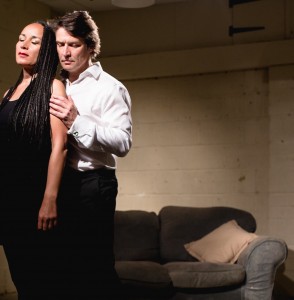 Paul Levy talks to Maria McAteer about One Last Look. "A compelling new thriller written by National Westminster Playwright's Award Winner Maria McAteer. A man and a woman wait in a flat in Camden for a phone call from a colleague. As they chat idly, they find themselves unwrapping progressively more revealing and surprising secrets. Funny, profound, moving, prepare to remain on the edge of your seat!"
Paul Levy talks to Maria McAteer about One Last Look
---
---
INTERVIEW
Eleanor Hill from SYCORAX Theatre Company talks about Obsolete Tomfoolery
What's the theme of your show?
As side-splittingly funny as it is thought-provoking, Obsolete Tomfoolery tells the story of Helen Duncan; a famous medium who travelled around Britain in the 1940s performing séances, claiming she was able to physically manifest the spirits of dead people. During the war, she was investigated by MI5 after it appeared she revealed government secrets about sunk British Battleships. In 1944, a few months before D-day, she was sent to prison under a 200-year-old 'Witchcraft Act'.
What's new or unique about the show?
Obsolete Tomfoolery is unique because it takes a true story and looks at it from a brand new point of view. Our subject matter of spirituality is not often explored within theatre, as well as the daring combination of so many theatrical styles.
How did the show come into being?:
Jess, one of the Sycorax family, first heard about Helen Duncan on a true crime podcast. She couldn't believe that there wasn't already a play or film about her life! She pitched it as an idea to the 2018 year group at East 15 as a potential project for the upcoming MAP festival at school, and Sycorax theatre company was born! Each of the company members brought a different side of a story that they were interested in, and the first drafts of Obsolete Tomfoolery came to life.
Describe one of your rehearsals.:
Each Sycorax rehearsal is different – variety is the spice of our creative life. One day we can be in the studio working on movement improvisation, the next we can be out in the forest doing yoga. We use a lot of games such as viewpoints, chair duets and prop based improvisation.
How is the show developing?
To take the show to the next stage, we have to expand the show from 30 minute show to a 60 minute show. We feel there are still important parts of Helen's story left to tell and this will be achieved through research, games and improvisation.
How has the writer been involved?
Our writing process involves us meticulously recording our rehearsals and improvisations, then typing them up. Once we have a physical copy of a potential scene, a different member of the company edits the first draft of the script. In this way there is no ownership of the script, we work, write and edit as a company.
How have you experimented?
We never let ideas fester. Once something feels comfortable we love to mess it up! From multi-rolling, changing scene locations and rehearsal venues, nothing stays safe for long. We love to work from a place of chaos: a singing warm up can become a full blown musical number within the show!
Where do your ideas come from?
Our ideas and inspirations are eclectic. Obsolete Tomfoolery pulls heavily on Brechtian performance and rehearsal techniques. We are also inspired by the exciting physical work of frantic assembly, DV8 and RashDash. Each company member brings their individual experience to the rehearsal room and we get our ideas from each other.
What are your future plans for the show ?
We plan on taking Obsolete Tomfoolery to other fringe venues and hopefully touring the show around the UK. After each show we plan on collecting feedback from our audiences in order to be consistently improving our work.
Show dates, times and booking info
Location: Etcetera Theatre. Above the Oxford Arms,
265 Camden High Street, London NW1 7BU
Ticket Price : Adult (£10), Concessions (£7.00)
Dates and Times :
Mon 13th August @ 6.30pm
Mon 20th August @ 12.30pm
Mon 20th August @ 16.30pm
Tue 2st August @ 12.30pm
Tue 21st August @ 16.30pm
Company web site: http://sycoraxtheatrecompany.wordpress.com
---
---
INTERVIEW
Claudia Carroll, Artistic Director at Orange Moon talks about The Nightingale & the Rose & Other Tales
What's the theme of your show?
A duo of Oscar Wilde's most haunting fairy tales. The Nightingale & the Rose and The Birthday of the Infanta are tales of love and ignorance; selflessness and waste. Balancing the beautiful with the comic; and, in true Wilde style, sillifying the serious and sharply cutting through tragedy with beauty.
Witty and pretty.
What's new or unique about the show?
Wilde's fairy tales are quite rarely performed, and this show is particularly uniques as it's being crafted entirely by women in a new physical and musical adapatation. Just a string of fairy lights with adorn the set and the rest is ensemble -With originally composed music, played live on the cello, and five-part choral harmonies and all squeezed into an hour long show, at three pub venues across London, this is a treat for the eyes, ears and stomach and an evening not to miss!
As the great man said himself: "I can resist everything except temptation."
Both the co-directors, the movement director and the composer are women, as is the AD of the company, and it will always be this way for Orange Moon. We are not man-haters but we are keeping this platform for ladies to shine through.
The show is ensemble and has been devised by the company, it is accessible, beautiful and inventive. And family friendly too! What's not unique about that?!
How did the show come into being?
AD Claudia Carroll has wanted to do these fairy tales for a while. Our company focuses on bringing 'lost' or rarely performed classics and other stories to the stage. Our last show was Galatea by early modern playwright (and inventor of that title!) John Lyly, first London performance in 400 years!
We have a reading and decide as a company whether this is something we all want to do! Very socialist.
Describe one of your rehearsals.
We rehearse at our local cricket club in the evenings and weekends, so we start by clearing away boxes and bats, open the windows to look out over the beautiful ground and then someone goes downstairs for wine. We often start with a bottle of wine and plenty of snacks between us, have a communal discussion, based on the directors aims and talk about what we want to acheive, then we play with the text as much as possible – although this show involves lifts, so we have non-drinking rehearsals too! We start with an image: "let's make a rose!' Then we all get involved and figure out the best way to do it! Often cast and crew bring their children, babies, dogs… everyone is welcome.
We were born out of amateur theatre and do it because we love it and we love working together, so nothing is ever very serious. We want to create theatre that is fun! So we have fun. And the director often gets very upset if people don't have a drink at some point in the rehearsal…
How is the show developing?
Bit by bit, through play and experimentation. We are creating gardens and palaces and lullabies – and it is quite complex. The blocking takes the most time, as with the style of the piece. Getting everyone on the same page so that the story flows like the vines and leaves within the tales is time-consuming and our movement director and co-directors are in every rehearsal!
But it's looking fantastic and is really exciting.
How has the writer been involved?
Not at all – he's dead! (Er…. RIP? Ed)
How have you experimented?
Sooo much. It is all experimentation! We try; it doesn't work. We try again; it doesn't work. We combine the previous two ideas and throw in a jump; BOOM! Magic.
Where do your ideas come from?
Mainly AD Claudia brings the stories to the table, being a keen literature geek, and has a style in mind and the rest comes from the company. Everyone puts something into the play and everyone invents as much as each other. We work well together, which is why we are a company!
How do your challenge yourself or yourselves?
We are ambitious with scale of the piece vs time to rehearse… That's certainly a challenge!
What are your future plans for the show ?
We want to do a pastoral setting. We are looking at places like the Minack (we wish!) and outdoor theatres in the UK and beyond!
What are your favourite shows, and why?
Everything, ever, by Kneehigh. Frantic Assembly and Complicte, too. these are our inspirations because they do not just reproduce someone else's story, enacted on a stage by some talented actors with a quirky set design that 'means' something. They create theatre in the same way we want to. They play, and they see what comes out. Claudia saw Kneehigh's Brief Encounter when it first came out, years ago and that has always been the inspiration for Orange Moon. They create images that mean something to people, that are entirely human and understandable, and at the same time hilarious and touching. Theatre is the most humane form of art and it is not so serious that it should feel pretentious, I think. That is what we try to do, make sure people have fun when they come to see us. They should be moved, too, of course! We like to think of it as 'balancing the beautiful with the comic.'
Show dates, times and booking info: The Barons Court Theatre : 17th – 19th & 20th July @ 7:30pm, 20th July @ 1pm.
Box office: 0208 932 4747
http://www.offwestend.com/index.php/plays/view/17554
The Lion & Unicorn Theatre : 1st – 3rd August @ 2:30pm
https://camdenfringe.com/index.php.
The Landor Space : 15th – 17th August @ 6:30pm, 18th & 19th @ 2pm, 19th @ 6pm.
https://www.landorspace.com/nightingale.
Book here
---
---
INTERVIEW
Comedy Improv back at Camden Fringe: Brendan Way, Performer with The Parentheticals talks about  Improdyssey
What's the theme of your show?
Hard to say as each show will be improvised! But our heroes will probably prove that love, friendship, and family are the best way to go about this world. Unless it turns out this tale was their villain origin story. Plot twist!
What's new or unique about the show?
Improdyssey is a format we've devised that's a hybrid between an improvised narrative quest and 'Whose Line is it Anyway'-esque games. Those are two very different styles! Figuratively speaking, we're mixing cats and dogs to make a whole new beast.
How did the show come into being?
Ever since 2016, our fringe hours at Brighton and Camden have culminated in an improvised epic quest. Each year, they've been taking up a little bit more of the show – and for good reason! They're our favourite bit to do. So this time we're given over our entire sixty minutes to a single ad-libbed adventure.
Describe one of your rehearsals.
Depends where we are. If we're at a studio, we'll start by complaining that the windows don't open. If we're at a certain cast member's house, we'll play with their dog. Then we get on with some improv!
We warm up with some quick games, then we'll run a few variations on a stock scene (we meet the villain) or, if we're feeling brave, do a full show.
How is the show developing?
Terrific. We leave every session feeling like we've made progress. Each week we get one step closer to nailing what works. It's exhilarating.
How has the writer been involved?
Whilst the show is improvised, we have been working on a basic structure. For example, when to bring in certain stock characters and story element. This is our first hour-long quest so we want to ensure the plot keeps moving.
However, when first discussing this project, one of the team said "if it turns out we've written a play, we'll pull back". And they're right. The show works best when we're loose. If we're in our heads about which scene comes next, we won't be open to fun tangents. The medium would lose all of its joy. We would be bored. So whilst all our shows will have the same skeleton, each time we flesh it out, the details will be new. No two stories will be the same.
How have you experimented?
We've been figuring out how to work more games into the show. We want the audience interacting and contributing as often as possible. Other improv hours take suggestions at the beginning and that's the only time the crowd gets to help. If your prompt wasn't used then, you might feel a bit disappointed. So one of our big aims this year is ensuring people get plenty of chances to influence the show.
Where do your ideas come from?
We've been taking it in turns to present fairy tales, folklore, and Arthurian legends to each other, then lead discussions on which tropes we could feature in our own stories. All of our ad-libbed adventures at Camden will be set in a mediaeval fantasy/D&D/Lord of the Rings world – think magical woods and talking animals – so we're very much influenced by those too. Like all improv shows though, we're mostly inspired by what comes up organically in the room and how audiences react.
How do your challenge yourself or yourselves?
A few rehearsals in to tackling our new format, we tried running our first full hour-long story. The longest quests we'd done prior to that were thirty minutes. The resulting show was a little rough, but we proved our formula works. We can actually do this. And now we know what to tinker with before August.
What are your future plans for the show ?
Up the production values, get better at doing the format, and plan a quest to the biggest Fringe of all: Edinburgh.
What are your favourite shows, and why?
So many of our great improv buddies are at Camden this year – Improbotics. Clusterfox. Open Roads. Panicky Tack. Impro Deathmatch. They're all worth checking out.
I'm also keen to see Secondhand Stories, the new production by Putnockee Players. Their debut play at Camden Fringe last year was so good! If you're in Edinburgh, please go watch puppet quintet Bark and B. They're just wonderful.
Show dates, times and booking info
3rd-5th August. 2:30PM. Etcetera Theatre.
Book here
Company web site: https://theparentheticals.co.uk
---
---
INTERVIEW
Two Actors, Fourteen Characters: Debbie Griffiths from Clueless Theatre talks about Two by Jim Cartwright 
What's the theme of your show?
This classic two-hander expertly blends together a whirlwind of emotion, questionable customer service and unspoken truths. From the landlord and landlady who despise one another to a shaken (not stirred) cocktail of customers; Two explores love in its many forms and guises. Each vignette skilfully combines pathos and humour providing the audience with laughter, tears and a thought or two to take home.
No scenery, no props, no sound effects – just the cast, the audience and the script. Minimalism is the key to this enthralling piece of drama which concentrates on the characters and poetry of Cartrwright's writing.
What's new or unique about the show?
Two actors bring 14 characters to their audience in 75 minutes of seamless entertainment with two stools and some rapid costume changes. Described as a roller coaster of emotions, the audience are guaranteed to laugh, cry and gasp.
How did the show come into being?
Kyle Cluett, Debbie Griffiths and Piers Newman, the founding members of Clueless Theatre met whilst performing their award winning production of Two at Bromley Little Theatre in 2014. All three have worked on other projects, but their love and adoration of this play and each other brought the trio back together. In order to bring their production to a wider audience they formed their own theatre company with the aim of touring Two. There is no doubt that this talented trio will be back with more good quality writing and acting. Clueless Theatre – keeps you guessing.
Describe one of your rehearsals.
You might think it was easy to mime working behind a bar – oh how wrong you'd be. At least one rehearsal has been dedicated to marking the till, the pumps, the optics, how to drink – yes really, neither actor could mime drinking? Working the hatch in unison, remembering when it's up and when it's down.
How is the show developing?
We are now well into our UK tour and the show is receiving outstanding reviews. It has been described as 75 minutes of spellbinding theatre, a rollercoaster of emotions, tour de force performances, a seamless production that never loses momentum and more.
How has the writer been involved?
The writer wrote this working class poetry back in the 1980's and it's a popular play for groups to revive. We know that Jim Cartwright supports working class actors, which we are, and that he goes to Edinburgh. We would like him to see our version of his show and we think he'd like it.
How have you experimented?
Mainly with mime. When we first decided to do the show we wanted to concentrate on the writing, here are some dramatic turns in the show and props would only distract from this.
Where do your ideas come from?
We have a wonderful director whose imagination and enthusiasm have lifted this version of Two to another level. His influence is very apparent.
How do your challenge yourself or yourselves?
We may have performed this show many times, but every single performance finds something new. It's too fast and furious for us to become complacent or lazy, it's important to stay "in the moment".
What are your future plans for the show ?
When we finish our tour at the Edinburgh Fringe (theSpace on Northbridge V36 Fife Theatre) we'll be working on a new project. Watch this space.
What are your favourite shows, and why?
We like good writing, dark with a black sense of humour. One of our favourite plays is Beauty Queen of Leenane, beautifully drawn characters that are flawed in so many ways and a good story line.
Show dates, times and booking info:
Camden Fringe – The Lion & Unicorn – 2nd – 5th August at 8.45pm
Book here
Company web site: http://www.cluelesstheatre.co.uk/
---
---
INTERVIEW
A one act play set in London about online dating: Kyla Morris , Producer/Director/Playwrigh from Diamond Productions talks about O.L.D – Online Dating
What's the theme of your show?
O.L.D is a contemporary one act play set in London about online dating. It has many themes including the struggle of searching for love online, loneliness and being stuck in a rut with your life. It also examines the contradiction of being simultaneously interconnected via the internet and disconnected.
What's new or unique about the show?
There haven't been that many shows that have examined life as a millennial navigating online dating whilst feeling isolated and lonely.
How did the show come into being?
I online-dated for several years with disastrous effect, never having gone on a second date. I put some of my experiences into the play and added what I considered to be important contemporary themes.
Describe one of your rehearsals.
Rehearsals typically involve a table run through of the entire script and then acting out the scenes.
How is the show developing?
We had a read through with the actors and an audience in order to gauge how the play would be received in April and are pretty happy with the results. People laughed in the right places, cried in the right places and felt an affinity with the characters.
How have you experimented?: We aren't using scenery and the lead actor doesn't leave the stage. Scenes are indicated via ambient sound.
Where do your ideas come from?: My ideas come from my experience online dating and my observations of life in London.
How do your challenge yourself or yourselves?
I am a writer, so used to being in a room by myself writing. Collaborating with actors is a challenging experience for me in itself. I'm learning on the job, especially regarding the technical aspects such as lighting and tech.
What are your future plans for the show ?
If the show is a success at the Camden Fringe we have been offered longer runs at other Fringe theatres.
What are your favourite shows, and why?
I'm very open minded and appreciate anything well written and produced. It depends on my mood but I'll watch anything from Shakespeare to sitting in a darkened room with only audio.
Show dates, times and booking info:
O.L.D will be performed at The Water Rats at 9:30pm on Saturday 25th and Sunday 26th of August 2018.
Book here
---
---
INTERVIEW
Staging the Aftermath: Writer/Director Lita Doolan from LD Productions talks about Time For Tea
What's the theme of your show?
The after math of the 2002 Cowgate Fire that changed the writers life and also the lives of the residents local to Grassmarket.
Collective Grief is tackled through 3 interweaving monologues.
What's new or unique about the show?
The gap left by the fire is under threat as a 11 storey Virgin Hotel is being planned. This will block out the daylight from Edinburgh's Central Library and provide a challenge to the livelihood of local Air BnB owners.
How did the show come into being?
During a challenging monsoon inspired Edinburgh Fringe the writer leaned heavily on the support of fellow Fringe performers to get through. The news of the fire challenged the writers connection to the fringe routine she knew and had been supported by. The recent proposed change to the city after the fire will damage the memories forever.
Describe one of your rehearsals.
Chocolate biscuits and big mugs of black coffee are shared in the kitchen. We talk about our weekends and the good/bad theatre we have seen. We disagree and this starts us creating an idea about what theatre means to us and why it is important. At this point we usually agree and go into a line run. Then we put some part of the script on it's feet often before/after a cigarette break. (Note to venue owners) we are champions at clearing up our cigarette ends.
How is the show developing?
We have 10 days before we perform. The script has changed a lot since it was staged last month at Stockwell Playhouse where we got good feedback and valuable insights from Paul Vale of the Stage, 'succinct'.
The characters have changed a lot since rehearsals began as the reality of their situation has been explored through research.
How has the writer been involved?
This production is directed by the writer which has unique benefits and challenges. The voice of the actors is instrumental in creating a division between lines that work as the overall vision and lines that move the story forward. Heaps of editing has resulted.
How have you experimented?
Longer audition processes helped identify actors who are also keen to develop a new script based on a real event. Using different sized rehearsal spaces to get the effect of being evacuated out of a small room has helped.
Where do your ideas come from?
Observing people on the street, listening to conversations and watching fringe theatre in its early stages to find images and feelings that flow.
How do your challenge yourself or yourselves?
By providing a clear task and enough time to complete it with room for feedback at the end so we can all learn from everyone's process. The challenge comes from working with new people on every project so everyone has to adapt to embracing new processes.
What are your future plans for the show ?
A longer run at Brighton Fringe 2019
What are your favourite shows, and why?
German one act plays that I often see in Berlin where at the last count there were 101 theatres. Non UK European theatre tends to be less text based and more physical.
Show dates, times and booking info: July 30th 12.30
Etcetera Theatre
Book here
Company web site: https://litadoolan.net/2018/05/13/time-for-tea/
---
---
INTERVIEW
Verbatim Theatre with Music, Songs and Storytelling: Writer, director, performer Olesya Khromeychuk from Molodyi Teatr London talks about All That Remains
What's the theme of your show?
The show is about the war in eastern Ukraine and looks at the war from the point of view of those left behind when a soldier is killed. It mixes up elements of documentary and verbatim theatre with music, songs and storytelling. While the show reminds the audiences about the ongoing, but mostly forgotten armed conflict in the middle of Europe, it is predominantly a universal story about loss and memory that can be understood by anyone, whether they know anything about Ukraine or not.
What's new or unique about the show?
Considering that this war has been going in Europe for over 4 years, it's quite shocking to think that so little attention is paid to it. It's one of the few shows about the war in the Donbas region to be made outside of Ukraine and in English (we know of only one other show, Balaklava Blues, made by a Canadian theatre company). All That Remains uses true stories and some verbatim text coming directly from people who have experienced the frontline. So our show is pretty unique in that sense.
But the show is also quite unique, I think, in that it looks at war not only through the traditional focus on soldiers and fighting, but rather through the untold stories of those behind the scenes who have to deal with the shockwaves caused by the death of a soldier in combat – the families, friends and army officers who have to liaise with the families. It is not a tale about a fallen hero, but one about the tragedy of a lost life, the struggle to survive and make sense of living with a war as part of your life.
How did the show come into being?
The show is based on my own family experience of bereavement related to the war. My brother was serving in the Ukrainian Armed Forces and was killed at the frontline in 2016. I've drawn on my own experience of the process of trying to deal with this, but I didn't want it just to be about me. I've done a lot of research around the topic of what happens when Ukrainian soldiers die and how the death is dealt with at various levels. In the end, this is the story of thousands of Ukrainian families.
Describe one of your rehearsals.
We rehearse once a week at the Ukrainian Institute in London. We are a non-professional group, so everyone comes tired after work, but as soon as we get through our warm up and get down to work the energy comes flowing back. We are a pretty tight-knit group I think, and we all really believe in the show, so it's not hard to motivate ourselves. Most of us are originally from Ukraine, but there are also people with Scottish, British-Sri-Lankan, Scottish-Russian and other backgrounds. We tend to mix several languages in rehearsals, which is fun.
How is the show developing?
It's all been done pretty quickly, so we're nervous about how it's going to go, of course – there are never enough rehearsals! But we're feeling really good about it. Our approach is very much to develop the show and the text as a team, through the rehearsal process. Interesting ideas have been coming up even in the last few rehearsals before the premiere.
How has the writer been involved?
I'm the writer and the director, but I brought my text to the group very early on in the rehearsal process and we worked with it and re-worked it several times. Everyone has input into the final shape of the show.
How have you experimented?
We're flexible in rehearsal, so when someone has an idea of how a certain scene should look, or whether we should suddenly get rid of something, or change something, we just try it out, it's a fluid process. We also invite our friends and colleagues who are not familiar with the story and 'test it out' on them.
Where do your ideas come from?
As a theatre group, we are really committed to real stories, that's why all our plays have involved a lot of documentary material. In the past, we used verbatim interviews with undocumented migrants in the UK to tell their stories, and this time we're using real stories and some verbatim text too. We feel lucky to be able to use our theatre work as a means of communicating information about issues that are important to us and that so often do not receive appropriate attention in the mainstream media. As a group of mainly Ukrainians, we've all been affected by migration issues, and now by the war. So, we share what we know intimately with others.
But while we rely on real stories, we like to mix documentary approaches with other elements: in our previous two shows, we told migrants' stories, but also spoke about attitudes to migration, and we used music, including our own songs, and comedy to deliver these pretty serious messages. This time the play is more serious, but we've still used music – some blues, some Ukrainian folk music, and there's still some humour (albeit quite dark).
How do your challenge yourself or yourselves?
Each show brings its challenges – for some of us it might be trying to be funny on stage, singing and dancing, involving the audience (in our last production we got the audience to 'vote' on which migrant stays and which gets deported), or simply talking about our own experiences. This time, the challenge was no longer to hide behind comedy and clowning around and to speak directly about a difficult subject. But I think we've managed to do this well, and have still maintained a lot of lightness and hope.
What are your future plans for the show ?To perform it as much as possible! We are performing it at both the Camden and Edinburgh Fringes, and then we've been invited to bring it to Bristol in the autumn. Of course, we'll be looking for other opportunities to perform it to as many people as possible. We'd also really love to take it to Ukraine.
What are your favourite shows, and why?
I love shows that really make use of theatre to tell raw stories that might make you feel uncomfortable, but that will also make you think.
Show dates, times and booking info:
Camden Fringe, London: Camden People's Theatre, 30th July 7:15pm and 5th August 7:00pm, £8 (£6): https://camdenfringe.com/show.php?acts_id=2202
Book here
Company web site: https://molodyiteatr.wordpress.com/
---
---
INTERVIEW
Writer/Producer Brian Coyle from Mixed Up Theatre talks about Timeless
What's the theme of your show?
Martin, a London cabbie, has a problem – he can't make new memories since he went to the dentist ten years ago. Every morning he wakes up he thinks it's 2008 and the last ten years are a complete blank.
Timeless is a play about memory: How does memory define who we are? What happens if it goes? And, just how reliable is it anyway?
What's new or unique about the show?
It's a single-hander and tells Martin's story from his point of view. Over a single day we follow him as he negotiates his bewildering world. Through flashbacks (and flash forwards) we the audience can work out what is going on, but for Martin it is not so easy.
How did the show come into being?
The show is inspired by a the true story of a man who went to the dentist one day and since then, for over ten years, he's been unable to make any new memories – it's a condition called anterograde amnesia. Every morning his partner needs to explain what has happened to him. He remembers some short term memories (for a few hours) and can retain them for a bit longer if he keeps reminding himself, but they all go overnight.
We thought it would be a good way to look at the subject of memory and its fallibilities.
Describe one of your rehearsals.
As it's a single-hander we can rehearse anywhere. Only John Rayment (performer) and Charlotte Peters (director) are required. So mostly we've been rehearing in each other's flats. Although John is slightly concerned,as neighbours can hear him shouting obscenities and see him waving like a crazy man!
How is the show developing?
We've almost finished rehearsals. The sound design for the piece is coming along. We have a trailer out this week for the show. Basically, it's all coming together.
How has the writer been involved?
Unusually the writer (Brian Coyle) is also a co-producer. So he's been helping with promotion, flyering etc.
In rehearsals, Brian and the team hone the piece as we see it on its feet for the first time – making sure it works just right.
How have you experimented?
The show is quite unusual in its form. It uses multiple short flashbacks and a few flash forwards and we use a sound design to indicate where Martin is in his time/world.
Where do your ideas come from?
I (Brian Coyle) want to write about ideas and themes that interest me and tell us something about ourselves. Memory is a slippery area. The more we learn about it (from science) the slippery it becomes. I was particularly interested in looking at how: if memory helps define who we are – and it's fallible (for us all) – then how can we know who we are?
What are your future plans for the show ?
We've already secured a transfer of the show to an off west-end theatre in the Autumn.
Show dates, times and booking info: Hen and Chickens Theatre, London N1 2NA
Part of the Camden Fringe
Fri 10th Aug 7:30pm
Sat 11th Aug 4:30pm and 7:30pm
Book here
---
---
INTERVIEW
Exploring Identity and Masculinity: Performer Holly Burgess Smith from Rough Stock Theatre Company  talks about Bullarena 
What's the theme of your show?
The two main themes of our show are identity and masculinity. Set in the male dominated rodeo world, Cassidy has to conceal her identity in order to compete in the Bull riding contest, a sport forbidden to women.
What's new or unique about the show?
Brandi, a cast member of rough stock theatre company, gave us her true story which inspired the production of Bularena. Bullarena tackles the importance of, gender equality, determination, facing your fears and most importantly never giving up. The most unique aspect of the show is the setting, Bullarena will introduce many audience members to the rodeo world. The main aim for our production is to entertain our audience!
Describe one of your rehearsals.
Every rehearsal has been very different, through extensive improve sessions to find the script, and movement sessions involving rope, and hockey sticks! One particular rehearsal da, was entirely movement based; we listened to a range of music from "footloose" to "rhinestone cowboy" and allowed the music to influence ways in which our character would move, react to certain situations, and other characters, not just within the show but in the rodeo world.
How is the show developing?
Currently the show is 25 minutes, we are extending the run to 45 minutes. We feel there is still so much we would like to explore of the rodeo world, which will achieve this through, research, improv and movement sessions. There are also a couple of characters who will feature more throughout the production to add more dynamism and comedy to the production.
How have you experimented?
As soon as we have a new idea we get it up on its feet! We will discuss a rough outline for a scene, and then delve straight into it. As an ensemble we take a lot of risks, the product we end with could be completely differs from the one we started with.
Where do your ideas come from?
We familiarised ourselves with the "rodeo" and "cowboy" world, this included watching documentaries, and drawing inspiration from iconic western movie scenes.
What are your future plans for the show ?
We would love to take the production to other fringe venues and hopefully a UK tour. We will take into account feedback from audience which will provide us with ideas on how to continuously improve the production.

Show dates, times and booking info: 
Bullarena is being performed at the Camden people's theatre, 7:15 13-14th of August.

Book here
Company web site: https://roughstocktheatre.wixsite.com/website
---
---
INTERVIEW
Jasper Frost, Director from Caged Bird Theatre talks about NEON
What's the theme of your show?
NEON is a new play that deals with loneliness, death and transcendence. It follows Jude, a therapist who meets someone that claims to be God. At first she thinks this person is just arrogant and deluded, but when one of her clients claims to be having visions of someone in his flat at night, Jude realises she's caught up in the birth of a new religion. It's through this grand and absurd narrative that we discuss the value of faith and how to find it in the most desperate of times. It's very much a play for today, as it highlights our need to carry on through the darkest and most uncertain of times.
What's new or unique about the show?
The narrative of the show is certainly one of the most ambitious concepts that we've tackled. When portraying gods and religion (with references to 20th century science fiction) onstage, one might expect a large-scale spectacle. But Caged Bird is a company for performers; at any one point in the show, it's the fearless talents of the actors that draws the eye and drives the narrative. I think many audience members will assume a show about gods to be full of gimmicks and pieces of set, but we've actively gone against that expectation.
Instead, the strange and fantastical will become familiar and immediate because of our focus on the people in the story. Above all though, we think the audience will be surprised by how the show changes as it goes along and how that affects their response. As we've toured NEON, we have been glad to see that the first half of the show in particular involves a lot of laughter at the lighter moments; but what has struck us most has been how that makes the audience invest in the narrative and causes them to hold their breath in the last few scenes.
We knew NEON was something special when it went from being entertaining to something that you really care about by the end.
How did the show come into being?
The idea for the show came from a lyric in Simon and Garfunkel's song 'The Sound of Silence'. The lyric is "And the people bowed and prayed to the neon god they made". I can't totally speak for Patrick Swain's process as the playwright, but that lyric provoked the realisation that most religions are based on tradition and feel as old as time itself. So what would a God for modern times be like? That is what the idea of a Neon God means to us. Furthermore, since this play is about people losing and restoring faith, we wanted to tackle what it means today to 'make' our gods. Regardless of our religious affiliation, when everything in the world feels desperate, how can we make hope a motivator to carry on? That is the spirit of NEON. I don't think faith has ever felt as vital as it does today in a time of such division.
Describe one of your rehearsals.
It's hard to describe one, as they vary a lot! The actors in this show are alarmingly intuitive, which has really built the show from the ground up. I find myself as a director asking them a million questions, and watching as they create the world of the play themselves. It's remarkable. But as for NEON rehearsals specifically, there has been a lot of slapstick-style falling over and arguing over a God stealing orange juice. But those are scenes that exist in most plays, aren't they?
How is the show developing?
NEON has been touring for several months now, and at each stop on the tour I've learned a lot more about where the show is going. We're concluding this tour of the show at the Camden Fringe, but I still feel like I'm just getting to know what the world of the play is like. At the beginning of the tour, the show was above all a dark comedy with a thought-provoking ending. Now, however, the show as a whole is one that makes a case for hope, and encourages the audience to look to the future through a positive lens despite the darkness. That's a distinction that has had a profound effect on the show's development. This is a show with a dark, absurd premise that still manages to be life-affirming, and that makes it more than just a form of entertainment. It's something raw and surprisingly human.
How has the writer been involved?
Patrick Swain is an integral part of Caged Bird. He and I have worked on several projects before, and it's his flair for dialogue and drawing on personal experience that has caused this band of theatremakers to come together in the way they have. He has been present occasionally in the rehearsal room, which has helped the performers portray a deep authenticity in their characters. The play tackles isolation and loss of faith, which are two very personal themes that are often difficult to navigate in a rehearsal room. Patrick's involvement in the realisation of this show has been invaluable and reminds us all why we're here, saying what we're saying.
How have you experimented?
Our use of space is non-mimetic, in that the locations and time periods are indicated primarily by actor physicality and voice rather than set. This has granted us an unusual freedom in a rehearsal space. There are moments in the play where time is paused, we enter dreamscapes or people suddenly appear and disappear. One of my favourite parts of bringing NEON to life is discovering the rules of these elements and locations with the actors, and pushing our imaginations to find out what the more surreal moments actually look and feel like. Especially when time is frozen in a couple of scenes – striking a balance between realising such a cinematic moment and using it as a vehicle for comedy has been terrific.
Where do your ideas come from?
As a director? Or as a company? I suppose that, as a company, we just know what genres of theatre we love, and we do our best to find unique spins on what we have learned during our careers as theatremakers so far. For me as a director, I love fringe theatre as much as I do large-scale productions, if not more so. Watching Angels In America at the National Theatre was hugely informative for how I directed NEON. Seeing the way the supernatural is beautifully conveyed through set and lighting made me wonder "can you make storytelling that striking and balletic in a 50-seater?" NEON is far from ballet, but what it has is a lack of concern with locations and an utter fascination with individuals.
What are your future plans for the show ?
This is the end of the NEON Tour 2018, but by no means the end of the show. Despite what we have discovered within this play over the course of a year, I feel like we are only just scratching the surface of what it truly is. Caged Bird Theatre is ready to do new shows, but NEON will hopefully make its return to London sooner than you think.
What are your favourite shows, and why?
Birdland by Simon Stephens (directed by Carrie Cracknell) is a show that has stuck with me for a very long time. The way that it conveyed the disorientating nature of time moving forward and one's need to be loved was so achingly true to life it has influenced my approach ever since. But one production that I constantly think about when considering what a show is trying to say is Crematorium, a staging of Pecheykin's 'A Little Hero' that was done in New York (directed by Alexander Kargaltsev). The imagination that went into the staging of that production is so evident, and inspires me to think about how to 'say' something through staging alone. I think you can still rent Crematorium on Vimeo. Definitely watch it if you can.
Show dates, times and booking info
6-8th August @ 4:30pm. The Lion and Unicorn Theatre.
Book here
Company web site: http://www.cagedbirdtheatre.co.uk
---
---
INTERVIEW
Theatremaker Lois Brabin-Platt from Battleaxe Theatre talks about Battleaxe
What's the theme of your show?
Battleaxe explores reasons why we all have to fight, what will push us to our limits, and how we find strength in each other to carry on.
What's new or unique about the show?: It's the first time Boudica, Sylvia Plath, Agnes of Dunbar, Michael Dillon (google him!) and a modern school girl from Camden have come together, in an old rusty underground gym, to work out – will they even get along
How did the show come into being?
Our show developed from friendships made on our MA Acting Course at East 15 Drama School in 2018. This is our first show together and we're excited for how fast and furious we can create.
Describe one of your rehearsals.
We begin each rehearsal with Feldenkrais before going into a view points session. From this movement based practise we put on our characters and start devising.
How is the show developing?
We developed our first scratch as a 25 minute format that we performed as an MA project in The Corbett Theatre. We now have a 45 minute show and we want to take these characters and their underground gym even further.
How has the writer been involved?
The whole company has devised this piece.
Where do your ideas come from?
Our lived experience: we are a female and non-binary theatre company.
How do your challenge yourself or yourselves?
Honesty and as much compassion as we can find for ourselves and each other.
What are your future plans for the show ?
You'll have to wait and see – but we are interested in more experience, more untold his(her)stories joining us in the gym.
What are your favourite shows, and why?
Two Man Show RASH DASH Physical, dynamic story telling, subverting society expectations of gender.
Triple Threat by Lucy Microbic Pushing boundaries, what one woman (for the production) can create all by herself and we find it fucking impressive. and for pushing against all the morals and taboos of our patriarchal neoliberal, anti women society. Playing with sexualisation of society and really funny
The Writer by Ella Hickson. Challenging our acceptance of theatrical norms and behaviour.
Show dates, times and booking info:
7.15pm – August 16th 17th and 18thThe Camden Peoples Theatre
Book here
Company Twitter: http://twitter.com/baxtheatre
Company web site: https://www.facebook.com/battleaxetheatre/
---
---
INTERVIEW: Cheesy Sketch Comedy
Writer, Director, Actor Tommy Jolowicz from Prescott's Chins talks about A Very Cheesy Sketch Show
What's the theme of your show?
Well where to start… Absurdity, loss, betrayal, contracting bats!? Prescott's Chins: 'A Very Cheesy Sketch Show', comprised of Tommy Jolowicz and Charlie Redwood, addresses a number of themes during it's sketchy adventure, some of them more cheesy than others. In their haste to get to the show, it turns out Tommy forgot the cheese, an essential prop in a number of sketches! Turns out we set ourself quite a task in having to come up with a load of sketches which involve cheese and are funnier as a result of us having forgotten it. But nothing easy is worth it right? There are also a bunch of sketches which don't involve cheese, whose subject matter ranges from a wine tasting to the biblical town of Sodom. There's something for everyone 🙂
What's new or unique about the show?
We'd be lying if we said that some of the ways in which use other props in place of cheese weren't pretty avant garde. These schemes and strategies will require both performer and audience alike to use the power of their imaginations against all odds, as we stumble through a dense comedic jungle of our own making to make our lactose-laden sketches work.
Also we're sending a letter to our group's namesake, former Deputy PM John Prescott, inviting him to the show! His very own bowl of Prezza's Pretzels will be set out for him should he decide to grace us with his presence.
How did the show come into being?
Well we've known each other since the age of 7 and we are very close friends. We'd like to think our comic seeds have been germinating ever since then and we decided late last year that we'd like to spend a bit of time forgetting our jobs and following our dreams a little by putting on our show. Our senses of humour are very alike and once we decided on what prop should go missing as part of our conceit, it was just a case of furiously scribbling down ideas, writing, rehearsing and hacking 'til kingdom come. Now we're here and about to tread the boards (scary stuff…).
Describe one of your rehearsals.
We spend a lot of time indoors so when rehearsing we like to be at one with nature, on the balcony of Charlie's East London flat (or while roving some park or another). Occasionally one us (Charlie) will be trouserless for no reason save whimsy, and our rehearsals aren't a dictatorship so that's all cool (says Tommy through gritted teeth…). Other than varying states of undress at times they're really rather efficient, and rather good fun. If there's any excuse to go over the top on certain voices, we won't shirk from that (especially when we're in public).
How is the show developing?
We're normally pretty brutal with our material, so several sketches we used to stand by have been binned and conversely, a lot of sketches which we previously weren't sure about have been worked into some of our favourites to perform (some of course are still in the bin).
In terms of the missing cheese narrative throughout the show, it has in all seriousness developed into something a little more personal, tracking the fictional (and at times perhaps real) breakdown in our relationship until it reaches fever pitch at the end of the show.
Any story is a living organism, and 'A Very Cheesy Sketch Show' is certainly no exception!
How has the writer been involved?
We have written every word of the material ourselves, so yes we're rather involved.
How have you experimented?
Other than with each other…?
When rehearsing we always start with too much and dial back when we see necessary.
Where do your ideas come from?
A number of weird and wonderful sources: history; current affairs; pop culture; tv; comic books etc…
Other ideas are more personal and ethereal, making it difficult to put our fingers on from where some of our more out there material originates.
How do your challenge yourself or yourselves?
We view simply getting up most mornings as a pretty sterling achievement.
Charlie has set about a weight loss quest which has left him looking remarkably unlike how he does in our logo and artwork, which on reflection we think could be rather misleading to a public who really hoped to see a corpulent Charlie.
What are your future plans for the show ?
Should all go well, we hope to convert some of our favourite sketches into Youtube versions, and hopefully gain a bit of a following. We've grown rather fond of a lot of our material, so we'd like not to let it die and for it to get better as we journey down life's weary path.
What are your favourite shows, and why?
'It's Always Sunny In Philadelphia' because it's utterly anarchic, manic and wonderful. It's nice when every character is a pure, unmixed sociopath.
'Frasier' because it's relentlessly witty, and artfully maintains a balance between highly sophisticated and accessible to all audiences.
'Brockmire' because we all love an anti-hero and Hank Azaria.
Show dates, times and booking info
Being performed as part of the Camden Fringe
Venue: 2Northdown, Kings Cross
Dates/Times: 22-25th August, 7:30pm (9pm on Friday 24th)
Book tickets here:
Book here
Company Facebook: https://www.facebook.com/Prescotts-Chins-1877038419253058/
---
---
INTERVIEW
Alfie Jones, Writer, Producer and Performer at Morning People Productions talks about Blessings
What's the theme of your show?
What it is to navigate the descent into adulthood- dealing with mental health problems – taking a look at the current state of artistic culture and criticism (main character a budding artist)
What's new or unique about the show?
Projection and installation art – combining the cinematic and the theatrical to transcend borders of reality
How did the show come into being?:
ver a gap year devising writing and filming – comes from own experiences of mental health and growing up
Describe one of your rehearsals.
"we will fix that in tech, don't worry"
(Tech rehearsal ) "oh shit…"
How is the show developing?
Music and Cinematic are integral and need to hit beats at certain moments this is difficult
How has the writer been involved?
As a performer and director – most difficult part is trying to sell the show – we cant describe it!!!
How have you experimented?
We have a feature called 'the nest' this is a hanging ball of lights and a tangle of blue and purple neon lights – we still don't know what it means, but it looks cool
Where do your ideas come from?
There is a point about this question in the play – come watch it and get the answer 😉
How do your challenge yourself or yourselves?
I feel passionate that pushing boundaries and doing something new and different is how we move forward. People will criticise until it becomes the norm. The things as creators that excite us are normally the things that push us!
What are your future plans for the show ?
A short film
What are your favourite shows, and why?
Girls and Boys, cuz Dennis Kelly
– Robert Lepage – he has views on 'total art' and what it to transcend mediums. Theatre is one of the oldest art forms so its important to keep evolving it – he does that and he is responsible for the current state of theatre
Show dates, times and booking info
30th & 31st July – 9:00 pm
Camden Peoples Theatre
Book here
Twitter – https://twitter.com/blessings_play
Company web site: https://twitter.com/blessings_play
---
---
COMEDY INTERVIEW
Camden Fringe Comedy Double Act: Matthew Radway talks about talks about  The Intimate Strangers: Wuthering Heights
What's the theme of your show?
A sketch show where all the sketches are in some way linked to the song Wuthering Heights by Kate Bush. It's a creative nightmare that we're stuck with now. Expect, dark, silly and absurd sketch comedy.
How did your show come into being?
I had the idea for the show whilst we were at the Edinburgh Fringe last year and I dismissed it as being too stupid. I kept telling it to people though and they consistently laughed so it seemed the obvious thing to do. It was also, and remains, my only idea.
How did you get into comedy and have you ever died on stage?
I've been doing comedy with my double act partner James Taylor Thomas since we were at school together. It's now a kind of Stockholm Syndrome type of thing.
We have died plenty of times on stage but the right amount of times, not enough times to make us give up but enough to make us work harder.
How are you experimenting or trying something new in this show?
Our comedy has a particular edge to it in a lot of places that walks a line between light and dark.
The new thing this time is the theme really. Otherwise it's just us doing sketches and there's nothing wrong with that, hopefully.
Who or what are your comedy influences?
The League of Gentlemen, Harry Enfield, Gein's Family Giftshop.
Your show details: Dates, times, venues and booking info
5.45pm on 4,5,11,12 August
The Albany, Great Portland Street
Book here
---
---
INTERVIEW
The blurring of visual art & theatre boundaries : Kristin Bacheva, Performer from GOLKK Theatre talks about Peeking in the Portrait
What's the theme of your show?
The blurring of visual art & theatre boundaries
-The presence of cameras in modern society and its effect on our everyday relationships
-The legacy of photography
What's new or unique about the show?
The show challenges the perception of physical theatre today by exploring human interaction through an explosive stillness and fusing it with live photography. This offers our audience a performance which is not only live but alive.
How did the show come into being?
The show developed from a series of 1 hour long improvisations where we had 4 chairs and a microphone. We would record them and then pick up on interesting bits of movement, interactions or themes. Inspired by the occuring themes, we set ourselves to bring stimuli in a form of images containing humans. The first one that grabbed our attention was the photographs of Lady Clementina Hawarden, one of Britain's first female photographers. Her images were very intriguing with the people in it, big dresses and curious poses they have taken. We then started improvising with the images and then researched more into the photographers life and everything began to fall into place and form into a performance.
Describe one of your rehearsals.
We start with a solo stretch of each performer. Continue with a group warm up which we created for ourselves called the GOLKK warm up, which flows into a 'Huddle and Hum' (this is our take on the Golden hoop by Michael Chekhov). Depending on what the rehearsal aims to work towards we would either play around, do acrobatics and games or warm up more intensively the imagination and work on sections of our show.
How is the show developing?
We keep exploring our characters and scenes every time we come to rehearse or perform the show, and we always find new and exciting bits. The show itself alters slightly every time we change venues and audiences. We experienced that especially during our Kent tour.
How have you experimented?
Our last project, which was our first tour of the show can count as an experiment as we wanted to try out the show in a gallery space. The mixture of art is something that came out of the show and we wanted to push it further by performing in different galleries around the Kent area. The different spaces not only complimented the performance but they also altered them thus keeping it fresh both for us and for our audience.
Where do your ideas come from?
From feeding our rehearsals with different types of stimuli (images, music, texts, props, atmospheres). The constant play and freedom during rehearsals and also the diversity of interests and viewpoints of our multinational ensemble keeps the juices flowing all the time.
How do your challenge yourself or yourselves?
We challenge ourselves physically everyday in order to create exciting theatre based within movement. We also give each other playful challenges, for example doing a hand-stand, walking on your hands, exploring contact improv and so on, to expand on our physical abilities. Playfulness is a very important notion within the company and we always try and keep this in everything we do whether it is rehearsal, admin or tech.
What are your future plans for the show ?
We would like to keep experimenting with different spaces and try it outdoors as well.
What are your favourite shows, and why?
We love Pina Bausch and also we laughed a lot at Slob the Show.
Show dates, times and booking info
Friday 10th -Saturday 11th August
2:00pm
Sunday 12th August
6:30pm
Tickets £8
Book here
Company web site: http://www.golkk.com
---
---
INTERVIEW
Shakespeare at Camden: Co-director Kate Lee from King's Shakespeare Company talks about The Comedy of Errors

What's the theme of your show?
The Comedy of Errors is a play of mistaken identities and the resulting mishaps. There are two sets of twins, Antipholus and Dromio of Ephesus and their twins Antipholus and Dromio of Syacuse. These four are repeatedly confused by each other, their wives, their lovers, the town goldsmith, their own father and everyone else living in Ephesus. After possibly the most confusing day of their lives, we see the characters attempt to make sense of their tangled story.
What's new or unique about the show?
With a small cast and a condensed script, this fast-paced performance is perfect for both Shakepsearean rookies and those looking to celebrate an established love of the Bard. Co-director Molly has cut the show to under an hour, packing all of the best bits into a streamlined, exciting performance.
How did the show come into being
One sunny afternoon last April, Molly and I sat by the Thames discussing plays we'd like to direct for the Autumn Season of King's College London's Shakespeare society, the King's Shakespeare Company. I've loved 'The Comedy of Errors' since I performed in it as a child, but Molly was still to be convinced. We successfully pitched 'an hour or so of something fun', with no definite idea of which script we'd choose. After pestering Molly all summer to let us do 'Comedy', she agreed, and after spending some time with the text, she was as excited to direct it as I was. Her edition of the script takes all of the funniest moments of the play, and brings everything together in an hour of revelry and laughs.
Describe one of your rehearsals.
A typical rehearsal begins at 3pm, with a few games of Zip Zap Boing or Splat. Then we usually have some kind of very technical breathing exercise, which Molly leads – because after 21 years I'm still learning how to breathe.
We plan out which scenes we want to work on in advance, because our actors have been travelling from all around the country for these rehearsals, so it's really important that we use our time effectively.
After meticulously plotting out the perfect times for Antipholus to beat Dromio for losing his money, or for Luciana to roll her eyes in response to Adriana's rants about her unfaithful husband, we let the actors have a break and prepare for a run of the show so far. After they've shown how fantastic they all are, and we've gone over a few notes and changes for next time, we head to the pub.
How is the show developing?
Since our November run, we've had some major casting changes. We've welcomed four new actors, and rearranged others, meaning the show feels fresh and new, despite this being our second batch of rehearsals. The characters have changed significantly since last year; our Angelo has gone from a more-than-slightly-sketchy con-man, to a flamboyant artist. It's been so much fun to see new characters emerging from a script we've come to know so well.
How has the writer been involved?
Not a great deal, to be honest. We tried to get in contact, but he's hard to get hold of these days.
How have you experimented?
Every time we rehearse a scene we find something new, and we've spent a great deal of time refining the millions of ideas we all throw in, in order to find the balance of where a scene is funniest. We've had so much fun playing around with how far we can push the ridiculousness of the characters and their situations, and finding the perfect point where the audience can have as much fun as possible, while still being able to understand the plot.
Where do your ideas come from?
The script is packed with different possible interpretations, and working on a scene with two directors and up to twelve actors means we're never short of ideas. Molly and I had never directed before the first run of the show in November, and so most of our way of directing has been learned through acting ourselves. Every actor brings a huge energy to the character, and as such a tight-knit company, we're constantly making each other laugh anyway – this time we're just charging people to laugh along with us!
How do your challenge yourself or yourselves?
Producing one of Shakespeare's lesser known plays, with actors living all over the country for a summer, with less than fifteen rehearsals, with five of the named characters and around half of the dialogue cut, and on the budget of a university society, has been enough of a challenge in itself – we've tried to keep the rest as simple as we can. We want to show that Shakespeare is accessible, funny and enjoyable – and that's a challenge we've risen to with 'Comedy'.
What are your future plans for the show ?
It's a little harder to plan for the future of the show right now, as so many of our cast have just graduated and are off to various drama schools and exciting jobs this Autumn. Molly and I have just become co-presidents of the King's Shakespeare Company, so be sure to look out for more exciting productions from us over the next year (you can keep up to date via www.facebook.com/kingsshakespearecompany).
Show dates, times and booking info
Dates and Times:
17th August 2018 – 7pm
18th August 2018 – 5pm & 7pm
Running time: 60 mins (no interval)
Tickets: £5
Book here
Company Twitter: http://www.twitter.com/comedyatcamden
---
---
INTERVIEW
Stage Manager Philip Tucker-Bell from The Orange Works talks about Trans Pennine
What's the theme of your show?
'Trans Pennine' is a funny, fast-paced, and emotional play about family disagreements, gender-identity, and caravan holidays.
What's new or unique about the show?
This will be the world premier of the play at Camden Fringe on 1st August 2018.
One of the characters is played by a margarine tub
How did the show come into being?
The author, my husband, based the play on the story of a friend of his who in mid life came out as trans.
Describe one of your rehearsals.
We are all finding it hard not to laugh, and cry. Yesterday was spent in raucous laughter, and then everyone got choked up.
How is the show developing?
It's changed and been revised a lot over the past months, the characters are coming through strongly now, but the structure has also been refined throughout the rehearsal period.
How has the writer been involved?
The writer is acting in the play so has been intimately involved at every stage. He has revised the play on various occasions when he's been unhappy with a scene, or as we have learned more about the trans community. We have also involved the trans person the play is based on to ensure we are faithfully telling her story and yet retaining the comedy of the piece.
How have you experimented?
With puppetry, with different narrative techniques intercut with each other. With different layers of performance (actors playing actors playing characters).
Where do your ideas come from?
The core ideas behind this and other projects are drawn from real life experiences. And then fictionalised from Ian's head.
How do your challenge yourself or yourselves?
Ian likes to write in different forms, to find different ways to tell a story.
What are your future plans for the show ?
After Camden we are doing a couple of other previews in out local Tonbridge, Kent area, before heading off to the Edinburgh Fringe for 2 weeks. After that we have a performance at the Faversham Fringe as part of the Hop Festival.
Beyond that we are in discussions on future incarnations at other fringe festivals.
What are your favourite shows, and why?
We enjoy a variety of theatre. We have recently loved the work of a Frantic Assembly. Lovesong, Things I Know To Be true and Fatherland. Our local theatre group were lucky enough to get the rights to Lovesong which Ian Tucker-Bell, our author, directed.
Ian loves the writing of Martin McDonagh, particularly The Pillowman.
Show dates, times and booking info
1st August 2018, 9pm at Camden People's Theatre. Book through Camden Fringe.
https://camdenfringe.com/show.php?acts_id=2344
2nd August 2018, 7.30pm at The Old Fire Station, Tonbridge . Book via The Orange Works website
http://theorangeworks.org.uk/event/trans-pennine-at-the-oast-theatre-tonbridge/?instance_id=15
13th to 25th August 2018 6.20 pm at Edinburgh Fringe. Book via https://tickets.edfringe.com/whats-on#q=%22Trans%20Pennine%22
Company web site: http://theorangeworks.org.uk/
---
Check back here regularly for more interviews at Camden Fringe.