Our first guest bloggers for Brighton Fringe are now going live.
Follow the journeys of Fringe Theatre makers…
---
---
Brighton Fringe
Death by a Thousand Chocolates
We are delighted to welcome Ulysses Black and Daisy Jordan from Barely Human Puppets as guest bloggers for FringeReview.
---
---
Brighton Fringe
The Manifestation of Trim Tab Jim plays at Brighton Fringe 2018 after a fine review from FringeReview for The Reincarnation of Trim Tab Jim in 2015. James bares all…
---
---
Brighton Fringe
Guest Blog: Black-Bottomed Cow Tales From The Cotton Club
FringeReview welcomes Karen Baker and Lisa Douglas as guest bloggers for their Brighton Fringe show, Mr Frank's Cotton Club.
---
---
Brighton Fringe
Guest Blog: Whaddya Know – We're Insane!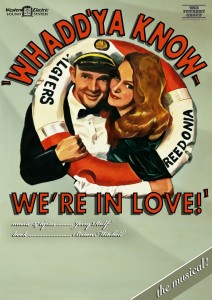 We are privileged to welcome Brian Mitchell, Jerry Rulf, Amy Sutton, Glen Richardson and David Mounfield from The Foundry Group for a joint (and hopefully joined up) Guest Blog to accompany their new show, Whaddya Know – We're in Love! at the Rialto Theatre, Brighton.
---
---
Attention Brightonians! – Here's a fascinating guest blog from the London Fringe Theatre scene.
Guest Blog: Not Talking by Mike Bartlett @ Arcola Theatre
A Co-production between The Arcola and Defibrillator Theatre, Not Talking gives us a multi-perspective, and multi-disciplinary unique dive into the creative work of Epsilon Productions.
---
---
More blogs are on the way.