Welcome to our Bechdel Test page.
During Fringe Festivals in 2017 and 2018 (and beyond), we increasingly saw stickers such as this one on show posters…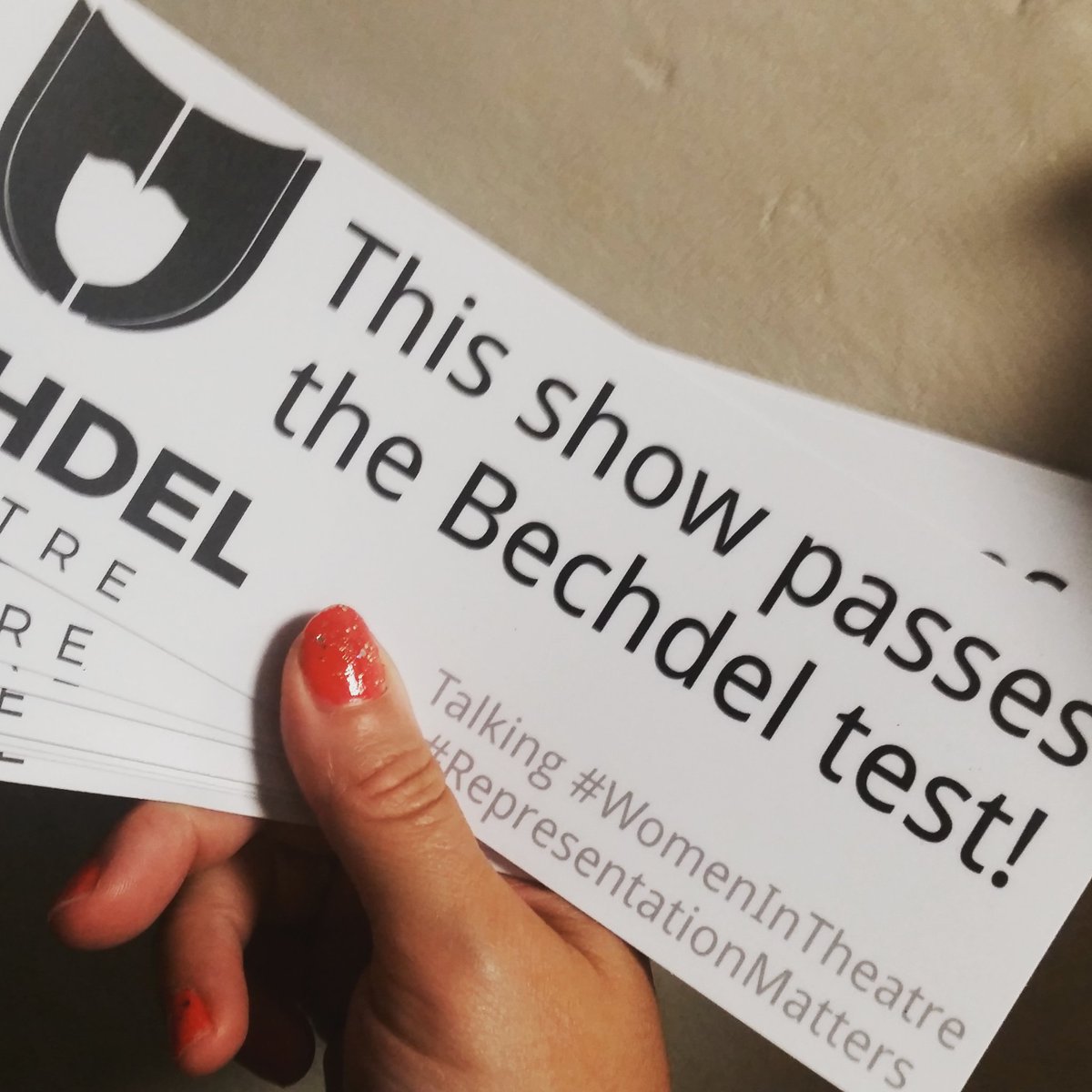 This sticker makes the claim that the show passes the Bechdel Test. Read on…
What is the Bechdel Test?
"The Bechdel test (/ˈbɛkdəl/ BEK-dəl) asks whether a work of fiction features at least two women who talk to each other about something other than a man. The requirement that the two women must be named is sometimes added." (Wikipedia).
Wikipedia goes on to state: "About half of all films meet these requirements, according to user-edited databases and the media industry press. The test is used as an indicator for the active presence of women in films and other fiction, and to call attention to gender inequality in fiction."
Perhaps even more surprising at the top films that fail the test.
"Also known as the Bechdel–Wallace test,[1] the test is named after the American cartoonist Alison Bechdel, in whose comic strip Dykes to Watch Out For it first appeared in 1985. Bechdel credited the idea to a friend, Liz Wallace, and to the writings of Virginia Woolf. After the test became more widely discussed in the 2000s, a number of variants and tests inspired by it have been introduced." (again, Wikipedia).
The test has spawned various campaigns, which has also emerged strongly in the theatre world.
FringeReview will be looking out for the stickers from Bechdel Theatre, (follow them on Twitter as @BechdelTheatre), interviewing and researching the Bechdel test further. Below you can also find our blog on this topic which we began in Edinburgh in 2016.
Watch this space for further developments…
---
---
Useful Links and Resources
UPDATED for 2019 – Some Essential New Reading and Watching
The Bechdel Test on Wikipedia
The Bechdel test Quiz
Bechdel Theatre's Podcasts
10 Famous Films That Surprisingly Fail The Bechdel Test
Article in the Huffington Post: Why the Bechdel Test Fails Feminism
A challenging blog post: Even movies that pass the Bechdel Test revolve around men
Article in Splice Today: Why the World Needs the Bechdel Test
Article in The Guardian: Wonder women: how this summer's TV passes the Bechdel test
Article in The Verge: Beyond the Bechdel test: here's how films can really make us love female characters
An attempt to attack the Bechdel Test – "National Review" mansplainer tries to take down Bechdel Test with "cowboy test" = read the original article here
Article in The Stage: Theatre gets its own Bechdel Test and also in The Stage: Does Your Show Pass the Bechdel Test?
Theatre that passes the Bechdel Test
An academic view *PDF Download (virus-checked) – Gender Asymmetries in Reality and Fiction: The Bechdel Test of Social Media.
Another academic article: *PDF Download (virus-checked) – Key Female Characters in Film Have More to Talk About Besides Men: Automating the Bechdel Test.
New for 2018-19…
Which Marvel Comics are the most feminist?
BEARING DOWN ON THE BECHDEL TEST: LAURIE FYFFEE AT THE ERGO ARTS PINK FESTIVAL
The Bechdel Test, The DuVernay Test, & More: What You Need To Know
DO THIS YEAR'S BEST PICTURE OSCAR NOMINEES PASS THE BECHDEL TEST?
10 surprising films that fail the feminist Bechdel test
Article: Lesbians are usually sidelined, stereotyped, or killed – but now we're taking centre stage
---
---
Archive – from our guest blog in 2016
The Bechdel test has been used for 30 years in film criticism, and since 2015 has been applied to stage shows by Bechdel Theatre, a project which highlights shows that represent women by asking three questions:
Are there 2 women on stage?
Do they talk to each other?
About something other than a man?
… and then promoting shows that can answer YES to all three questions.
At Edinburgh Fringe 2016, Bechdel Theatre has been placing stickers on posters to endorse shows that pass the Bechdel test (similar to 'star ratings' but with no indication of subjective opinion: only the fact that the show has women talking about something that's not men!).  Keep your eye out if you're looking at a wall of flyers and want to choose something where women aren't completely absent.
If you see this logo you can be sure that women are being represented:
For up-to-date tweets about Bechdel test passing shows, in Edinburgh and beyond, follow on Twitter @BechdelTheatre, but if you're planning your festival calendar and want some solid advice on which shows pass the test to help you cram your month with women on stage, look no further than this (non-comprehensive) list of 23 Edinburgh Fringe shows that ace the Bechdel test (plus 9 Bechdel-friendly solo shows) http://bechdeltheatre.blogspot.co.uk/2016/08/bechdel-testing-edinburgh-fringe.html. It includes where to catch the shows if you're not in Edinburgh, so have a look even if you're not fringe-ing this year.
Beth Watson of Bechdel Theatre is out and about at the Fringe looking for shows that pass the test. If you'd like to know more here is an article from the Stage (October 2015)
Does your show pass the Bechdel test?
And here is our interview with Beth:
Listen to our interview with Beth Watson about Bechdale Theatre