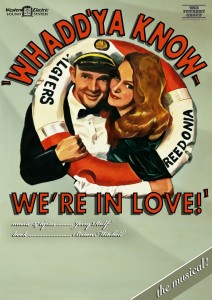 We are privileged to welcome Brian Mitchell, Jerry Rulf, Amy Sutton, Glen Richardson and David Mounfield from The Foundry Group for a joint (and hopefully joined up) Guest Blog to accompany their new show, Whaddya Know – We're in Love! at the Rialto Theatre, Brighton.
"All aboard! Full steam ahead on SS Freedonia for the craziest show at Brighton Fringe. Four musicians with a secret, a girl in a green velvet dress, stowaways, a Mediterranean monarch, and glorious unforgettable swing era style songs make this mad-cap tribute to the Marx Brothers, Bob Hope and Bing Crosby and the 'Let's-Do-The-Show-Right-Here!' school of musical theatre a
must-see."
The Foundry Group is proud to present this world premiere at Rialto Theatre in May's Brighton Fringe, starring Radio 4 regular David Mounfield, comedian and musician Glen Richardson (Radio 2′s 'The Day the Music Died'), Amy Sutton ('The Ministry of Biscuits') and Jerry Rulf ('The Spudguns')."
---
---
Blog begins…
B. M. :
In May 1998, The Ministry of Biscuits, the musical comedy I co-wrote with novelist Philip Reeve (now touring in a new production), premiered at Pavilion Theatre as part of Brighton Festival. There was no Fringe then, just some pages at the back of the festival brochure called 'Umbrella'. For a mere tenner you could get your show listed in them, and the Dome Box Office would sell your tickets and put up your poster on their walls. And that, seemingly, was all you need do to get an audience.
I well remember, on the first night, poking my head through the door to see a queue stretching down New Road. We were sold out – 220 seats. We were sold out on the following night too. I couldn't believe our luck.
Getting that audience proved the easiest part. Writing and staging a new musical comedy is uniquely knackering (all right, it's not exactly a stint down the pit, but it's exhausting enough) and, after The Ministry of Biscuits, I swore I would never do it again. Yet here I am, twenty years later, premiering Whaddya Know – We're in Love! at Rialto Theatre. It is my third musical.
Jerry – over to you.
J. R. :
The show just came about as a final piece for a performance art degree at Brighton University in 1992. That said, it's actually good. cf fig. 1
After a brief hiatus of 25 years mulling it over, I got Brian Mitchell to write a proper story to go with the songs I'd written, inspired by unobtainable women. I wrote a few more songs and bought some trainers that look a bit like shoes with spats on, because the show is set in the Spats Era! Thus equipped, we did a rehearsed reading at the Latest Music Bar with the original cast, now much older. It was a bit of a reunion, and was lovely. That made us want to do it properly, as it had turned into a proper old-fashioned musical comedy. Now armed with a more talented cast and myself much more beautiful, I'm very much looking forward to the first rehearsal. I'm considering buying a wig. #retrotastic
B. M. :
The show had actually occupied my thoughts far longer than Jerry suggests.
I first met Jerry in late 1994 at The Zincbar, the legendary open mike night run by Adrian Bunting. Our mutual friend Jason Pegg, singer-songwriter of Clearlake fame, was then making forays into stand-up comedy. I thought he was hilarious and was a big fan. He told me that I should meet Jerry, as he wrote a lot of his gags, adding "He's a bit of a (DELETED), but you'll get on with him." Both of these statements turned out to be true.
I soon learnt that Jerry had written a musical – a very short one, lasting about 30 minutes – but it had proper, Swing-era style songs and everybody had, apparently, loved it. There were no demo tapes or recordings – there wasn't even an extant copy of the script – but one night he and Jason, after a folk session at The Stable (the pub I lived next door to), crowded into my tiny fisherman's cottage parlour with their double bass and accordion and played the score through.
I was immediately struck by the catchiness and so envious was I of these chopper chunes that, about two years later, I wrote a bunch of my own for 'The Ministry of Biscuits'. Jerry's show, sadly, lay in a bottom draw, neglected – the songs existing merely as ear worms that burrowed  constantly around my brain.
Then, suddenly, about – ooh – eighteen years later? Jerry showed up at mine with a dvd. His mum had found a video she'd made of the original performance all those years ago. We watched it and for the first time I had a clear idea how the show could work. What Jerry had done, brilliantly, was throw all the musicals he'd remembered from his childhood – especially those that had Doris Day or Judy Garland in them – into a pot and reduce them to a fine consomme. My job was to put back all the chunks of carrot, onion, celery, meat and gristle to make it into a stew again.
We agreed the very basic outlines of a new plot, which preserved the original setting, and then did nothing for another three years. Then, for no obvious reason, despite my vow never to write another musical, despite my  later vow never to write another play, I suddenly wrote the book in a couple of afternoons in December 2016. And here we are.
D. M. :
I play the drummer in this musical. This is because I am not a musician. Anyone who knows a drummer will be aware that this is good casting. I also play the head Steward or whatever, who hates the band as he has an abiding loathing of all things musical. I am basing my performance on the terrifying bulldog father who constantly threatens to kill Tom if anything should happen to his puppy son. I'm deep that way, like Daniel Day Lewis. I may sleep in a doghouse chewing a big bone for a few weeks. (See video below)
This musical is very realistic and is based on actual events that Brian saw on TV when he was six. There are a lot of profound themes in this play, issues that affect a lot of people, like how to behave around eccentric but fabulously wealthy heads of state on a cruise, and the best way to (SPOILER ALERT) avoid being in the foreign legion by faking it as a jazz band. It could happen to any one of us, so don't go around shooting your big yap off about it all being a big bunch of hooey, you hear me? Good. So long as we understand each other.